---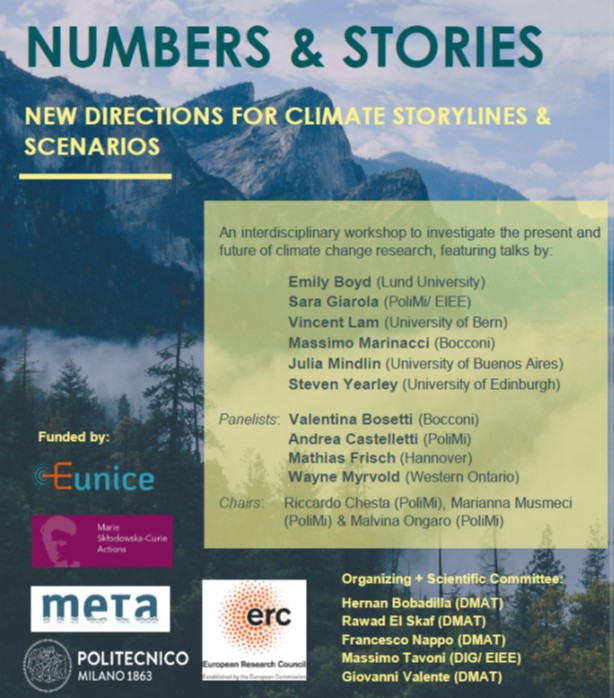 A workshop between climate scientists and philosophers about future scenarios, https://www.eventi.polimi.it/events/numbers-and-stories-new-directions-for-climate-storylines-and-scenarios/?lang=en
---
---
Join EUNICE!
We are hiring to complete the team. I am looking for two post-docs to work on i) climate-economic risks and ii) decision making under uncertainty. Responsibilities include one of the following:
Empirical analysis through machine learning to quantify climate change risks on socio-economic systems
Development and applications of theories of robust decision making to climate change;
Stochastic modelling and optimization with applications to climate change.
The job location is in Milan, Italy. The position will be a joint appointment at Politecnico di Milano and the RFF-CMCC European Institute on Economics and the Environment.
We are looking for a motivated person with the following requirements:
PhD in either applied mathematics, data science, economics, decision theory, or related fields;
Capacity either in empirical or numerical methods;
Fluency in English (Italian not needed), good presentation and writing skills;
Willingness to travel to project meetings and to conferences;
Ability to work in an interdisciplinary and diverse environment committed to high-quality research.
Desirable: Previous experience with climate change research, including climate science.
If interested, write me! massimo dot tavoni at polimi dot it